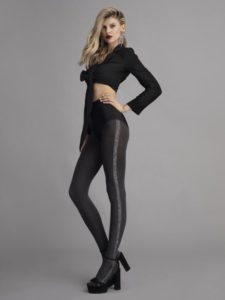 The best thing about wearing tights is that you can achieve any look you want. You can enhance your natural beauty with the right pieces. If you want to have the look of longer, leaner legs, there are some simple tips that can help you do so. Here are our top tips that anyone can do:
1. Match Your Shoes
Matching your shoes creates an uninterrupted line along your legs. Wearing shoes of a different color creates a visual barrier between your legs and your feet. Removing this barrier by wearing shoes of the same color as your tights can help your legs look miles long. Fortunately, tights like the Brigitte 15 Denier Pantyhose come in a wide variety of colors so they can match any footwear.
2. Choose A Darker Color
Dark colors like black, navy, and royal purple are naturally slimming. This is because dark colors hide any shadows and create a visual illusion of thinner lines, especially when worn on the legs. Luckily, you don't have to stick to black. We have a beautiful selection of darker colors like the gorgeous dark magenta of the Sevilla LIbero Seamless Glossy Pantyhose in Cruela or the stunning emerald green of the Diamond Shimmering Fashion Tights in Smeraldo.
3. Opt For Opaque
Opaque tights with a denier rating of 40 or higher are also quite slimming. Opaque tights are thicker, so they hide any imperfections that you would see with a sheerer pair. They also create a solid visual line that can lengthen your legs. If you want to achieve this look, consider the Seidenglatt 70 Opaque Sheen Tights. They are thick and opaque, but the sheen helps distinguish them from leggings.
4. Go Vertical
Vertical stripes are the best pattern for making your legs look longer and leaner. That is because your eyes immediately follow the line upward, highlighting the length of your legs. To try this look for yourself, go for the 615 Mesh Open Crotch Pantyhose. You can also try a simple tuxedo line like the one featured on the Cosmo 40 Tights.
These tips will help you have the long, lean legs you've always wanted in an instant. At Hoseiree.com, we have the hosiery you need to achieve any look. Our European-made hosiery is manufactured using the finest quality materials and the most advanced techniques, so you won't have to worry about your new look being ruined by unsightly tears or runs. Check out our full selection to find the pair that's perfect for you.