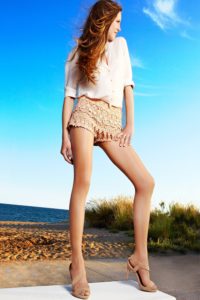 We often think of tights as wardrobe pieces for fall and winter. However, even though tights are ideal for keeping us warm, they are also breathable and can be worn even in warmer weather. This year, there are some great trends that walked the summer 2020 runway, and you can achieve these looks affordably with a great pair of tights. Here are five of the hottest summer trends to add to your wardrobe:
1. Leather
Leather is everywhere this year, and this trend doesn't seem to be stopping despite the warm weather. Designers like Givenchy, Louis Vuitton, and Rochas all had summer leather looks on their runways. Get the look with Eco–Friendly Leather Pants With A Crinkled Design-996.
2. Neon
Another trend that is back for a second summer season is neon. Neon colors like highlighter yellow, lime green, and traffic cone orange were found on the runways of Valentino, Marni, and Tom Ford. To get the look, try the Eterno 15 Glossy Pantyhose in Lima or the Sevilla Ultra Sheer Pantyhose in R–Antico. Both options are extremely lightweight and perfect for warmer summer weather.
3. White Lace
White tights were everywhere last year. This year, the look has been softened with lace. Design houses like Alexander McQueen, Miu Miu, and Chloe all featured white lace on their runways. To get the look, try the Orion Lace Leggings in White. The best part of this option is that the Orion Lace Leggings are on clearance right now!
4. Sheers
Sheer fabric was a major look on the runways for summer 2020, especially layered sheers. Designers like Supriya Lele, House of Holland, and Richard Malone all showed layered sheer looks. Try the Brigette 15 Denier Pantyhose to achieve this style. Go ahead and play with color like these famous designers.
5. Bold Prints
Bold prints are definitely having a moment right now. Designers like Richard Quinn, Erdem, and Marc Jacobs have all opted for maximalist big prints on the runway. To add this look to your wardrobe, try the Gerico Floral Design Tights or the Hamadryas Leggings. These bold prints are eye-catching and on trend.
All of these designer looks can be achieved without spending a lot of money. At Hosieree.com, we offer fashion-forward tights of the highest quality at affordable prices. With our great options, you can be on trend while still saving your pocketbook.