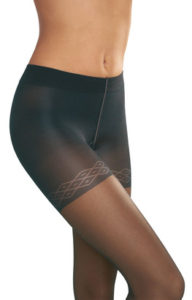 There is no wrong outfit for hosiery, there is no wrong time of year for hosiery, but there can be wrong ways to wear hosiery. If you're looking to make the most of your hosiery looks, there are a few mistakes you'll want to stay far away from:
Buying the wrong size – Hosiery that is too big will look baggy and unrefined; you'll be pulling them up all day long to avoid bunching at the ankle. Hosiery that is too small will look awkward and leave you far more susceptible for runs and snags. The best thing you can do when looking at hosiery to buy is to learn your size and stick to it.
No flashing – Many pairs of tights and hose have a portion that is a bit thicker from the thigh to the waist, and this is to push up, tuck in, and smooth your appearance. Control hosiery can do a great deal for your look, but it should be worn with care. The more opaque control top area should remain hidden, and shorter hemlines should be paired with hosiery that remains uniform all the way up.
Be mindful of your patterns – Patterned hosiery has been all the rage in recent seasons, and for good reason. Patterned hosiery is fun, it helps you to turn your legs into a statement piece, and it gives you a ton of different ways to play with your outfits. However, you can go wrong when it comes to choosing your hosiery pattern. If you're wearing an outfit with small sized patterns, don't pair with small patterned hosiery, and if you're looking to slim down the leg, don't opt for larger patterned looks.
Be careful with your fishnets – Fishnet hosiery can present with either a very sexy and elegant classic look, or a very edgy look. For a sexy look, pair the fishnets with a longer pencil style skirt, and for something a bit edgier, opt for fishnets with a short hemline and "harder" accessories. Mixing up these looks with your fishnets can leave you looking messy or unrefined if not done exceptionally well.
By following a few simple rules, you'll be ready to wear your hosiery with any outfit, and you'll feel confident in every pair you put on. For the perfect hosiery to complete your looks, see what we have in store at Hosieree.com today!