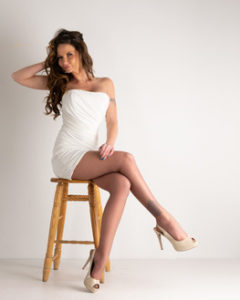 When browsing the pantyhose and tights selection on Hoisieree.com, you may notice that almost every pair has a denier number. Denier is a measurement of the thickness of the yarn used in a pair of hosiery. The higher the denier number, they thick and more opaque tights. Here is a guide to the denier measurements and how you can incorporate the different thicknesses into your wardrobe
10 Denier: 10 denier is the sheerest type of hosiery you can get. They are often referred to as "ultra sheer." 10 denier hosiery enhances the legs and provides a flawless, invisible finish. They do snag relatively easily, so it is important that for 10 denier tights you always invest in quality to avoid runs.
Example: Catwalk10 Denier Ultra Sheer Tights
15 Denier: 15 denier is still very sheer but offer slightly more coverage than 10 denier tights. These are perfect for people who want more coverage of their legs to hide imperfections. Both 10 and 15 denier tights are perfect for a bare leg look.
Example: Brazil No–Waist Band Pantyhose
20 Denier: 20 denier is the last of the truly sheer thicknesses. They offer a lot of coverage but are thick enough to be nearly impervious to snags if you invest in a quality pair. 20 denier is perfect for a sheer look if you are active or special occasions like formal events to look your best.
Example: Alani 20 Microfiber Tights
40 Denier: 40 denier is a very popular model. They are semi-opaque. They slim the legs and provide a lot of coverage. However, they still show a perfect peek of skin. They are ideal to wear with daytime casual looks. They are also opaque enough to add a splash of color.
Example: Alba Chiara 40 Tights
60 Denier: 60 denier tights are a daily wardrobe staple. They are thick enough to wear carefree, but still opaque enough for the office. 60 denier tights are also very slimming. Pairing a black pair like the Cazzola Gaetano Sogni Fashion Tights in Nero with black shoes will create the illusion of legs for days.
Example: Coral 60 Ultra Soft 3D Opaque Tights With Satin Sheen
80 Denier: 80 denier are very opaque and often very thick. These tights are ideal on cooler Fall nights. They are very slimming and can add a look of sophistication to any outfit. It's very important though to never put your 80 denier tights in the dryer because it can ruin the stretch.
Example: Shimmer 80 Denier Opaque Tights
100 Denier: Finally, 100 denier, the thickest and most opaque of all options. 100 denier is very soft and is perfect to help keep you warm in the wintertime. With a 100 denier tight, you can wear a skirt or dress in the winter and still keep very warm. They are a great option if you live in a cooler climate.
Example: Cortina 100 3D Opaque Tights
Which denier you choose depends entirely on how you plan to wear your hosiery. At Hoiseree.com, we have a wide variety of tights in all denier measurements. Not only do we offer a variety of thickness, but we also have a great array of colors, patterns, prints, and sizes for any need. Plus, all of our tights are high-quality European tights, so they are snag-resistant and with care, can last a lifetime. Check out our full selection to find the style and thickness right for your wardrobe.