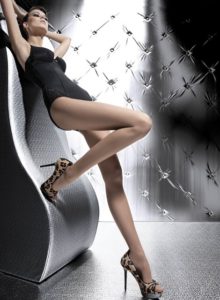 Whether you love opaque or sheers, colorful patterns or classic skin tones, what really matters when selecting your tights is choosing the right size. Choosing tights too small makes them vulnerable to damage and tears. Plus the inseam will be too low hang, making it hard to walk and force you to constantly adjust. Tights that are too big can sag, fall, and cause wrinkling around your knees and ankles.
How Tights And Pantyhose Are Sized
If you look at the size chart on any pair of our hosiery like the Alani 20 MIcrofiber Tights, you will see that the sizing is different than most clothing. Instead of sizes like an 8, 10, or 12, you will find that the size depends on your height and weight. This is because most tights are extremely flexible and can stretch to fit a variety of sizes.
What About Plus-Size Tights?
Plus-size tights like the Extra 50 Queen Size Tights use a similar sizing chart. However, they are designed to add more support and larger waistbands to avoid chafing and pinching. Higher quality plus size brands, like the European styles carried at Hosieree.com, also have a little more space in the thighs and buttocks to help highlight your beautiful curves.
What Size Is Right For Me?
Finding your perfect size is simple. You take your height and weight and find the size that is recommended on the chart. Some styles that use a thicker material like the Arctic 500 Microfiber Tights will also include your hip measurements. Thicker materials have less stretch than thinner materials, so taking your hip size into account will ensure that they aren't too tight on your waist or cause a "muffin top."
What If I'm In Between Sizes?
Sometimes you'll fall in love with the perfect pair of tights but your size is right between two different sizes on the grid. In that case, it's always better to go with the larger size. Tights are designed to fit tightly along your legs, hips, and waist. It's better that tights are slightly larger than having to fight to get into a pair that are a little too small, as they will still fit snugly.
At Hosieree.com, we have sizes available for every body type. With our handy size charts, you'll be able to order the perfect fit every single time. No matter what size you are, we have a style that you'll feel confident and comfortable in!