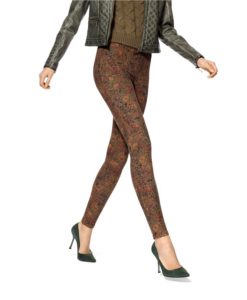 Tights and leggings are often used interchangeably. However, they are different types of legwear. Although they are both skin tight they have some major differences. Those differences determine what outfits to pair tights or leggings, how to wear them, and which you should purchase for the look you want. Here are the differences between tights and leggings and when to wear them.
What Are Tights?
Tights are a type of hosiery like pantyhose. However, unlike pantyhose, they are thicker and come in a broader array of colors, fabrics, and patterns. The best way to tell tights from leggings is that tights always have feet. A great example of tights is the Cortina 40 Semi-Opaque Tights in Bright Colors.
● When To Wear Tights: Tights are designed to wear under clothing. They look great under dresses, skirts, shorts, and cropped pants. They can also be worn for warmth like the Artica 120 Tights in Wool And Cotton under clothing including pants.
What Are Leggings?
Leggings are essentially skin-tight pants. They are thick enough that you can't see through them. They also rarely have feet. Leggings come in every kind of color and pattern you can imagine. They also come in a variety of different fabric options like the Eco-Friendly Leather Pants with a Crinkled Leg Design to microsuede like the Botanical Microsuede Leggings to even denim styles like the Denim Skimmer With Angled Hem. Leggings don't just come in pant lengths, they come in cropped styles like the Capri Fashion Legings with Contrast Border
● When To Wear Leggings: Leggings can be worn as pants. They pair great with your favorite t-shirts, sweaters, and blazer looks for the casual office. They can also be worn under dresses and skirts to keep you warm. Leggings are also the perfect attire for any physical activity where stretch and movement matters.
Now that you know the difference between tights and leggings, you can begin looking for your perfect pair of each. At Hoiseree.com we have all the legwear options you need from pantyhose to stockings to tights and leggings. All of our hosiery is from extremely high quality, European brands that will last no matter what style you choose. Check out our selection to find a look you'll love.