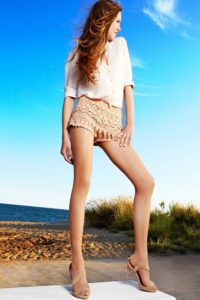 Springtime is almost here and it's time to update our wardrobes with the latest trends for the season. Unfortunately, most of the hottest looks on the runway cost thousands of dollars. Don't worry though, Hoisieree.com has the latest styles you want, at a look that your budget will love.
1. Crochet:
Crochet got a modern update this season with woven ensembles gracing the runways of Fendi, Salvatore Ferragamo, and Jil Sander. No longer just for the beach or grandma's closet, the new crochet looks are fun, sexy, and elegant for work or play. Get the look with Sebilla Fashion Lace Tights With Diamond Crochet Pattern.
2. Highlighter Colors:
That's right, neon is back and in a big way this season. Fluorescent colors were all over the runways of Balenciaga, Tom Ford, and Courreges. Paired with black, whites, and tans, highlighter green was the most popular punch of color. Grab either Eterno 15 Glossy Pantyhose in Lima or Sevilla Ultra Sheer 3D Pantyhose in Lime for the look.
3. 60s Floral Prints:
Bold 60s prints also made a comeback this season. Gucci, Prada, and Marc Jacobs all had great looks featuring throwbacks to your favorite kitchen wallpaper. This audacious trend is not for the faint hearted, but can really create an eye-catching look. Try Gerica Floral Design Tights for this statement look.
4. Polka Dots:
A more subdued print also made a comeback this season with polka dots. Sacai, Balmain, and Christian Lacroix all had polka dot looks on their runway. The prints were both large and small and in a variety of fun colors. To try this look out for yourself consider the Puntina Polka Dot Pantyhose or the Encore Dot Pattern Sheers. They can be worn with basics or layered with other polka pieces, however you want to express your style!
5. Hot Pants:
Found on the runways of Chanel, Hermes, and Saint Laurent, Daisy Dukes made a comeback in a big way this year. Now hot pants are not necessarily a hosiery trend. However, most women would feel more comfortable pairing this popular trend with a pair of hosiery for a smoother line. For a bare leg look try Capri Trasparenze Ultra Sheer Pantyhose, but for a more colorful option sport Microfiber Sophie 70 Opaque Tights in the any of over a dozen colors.
All of these great styles are available at Hoiseree.com. We have a great selection so you can sport the latest looks that match your personal style. Don't forget to show us your favorite looks on Twitter by tweeting @hoseiree, we'd love to see them!