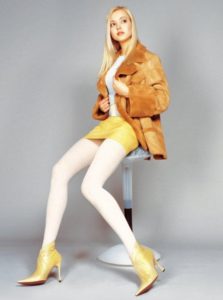 It can be easy to feel discouraged about dressing up when the temperatures drop. After all, fab and chic girls like us can only wear sweats and jackets so much.
Fortunately, you have the choice to spice up your daily fall and winter looks without enduring the cold. Yes, you can stay warm and still be fashionable!
If you're wondering how you can still wear your chic dresses and other fun pieces of clothing, we've got you covered. Here are some tricks!
1. Tights are your best friends
By now, you probably already know that winter tights, such as our Bellissima Everest 100 Winter Tights, exist. These winter tights are a wardrobe must-have! You can pair them with practically anything: a tunic, a short dress, or a sweater. You can even wear a skirt over them.
If it gets even colder, consider doubling up the tights. Still cold? Wear another one!
2. Layer at the top
It's not just your tights or leggings that you can layer. You can also wear thermal camisole underneath your dress. If it's still really cold, add more layers, maybe a T-shirt underneath. Then, you should pick a jacket or sweater that will go well with your dress-and-tights number for when you're out on the streets.
3. Legwear and footwear
If you really want to wear a dress in winter, then it's a must that you wear some nice tights to go with it. Wool blend tights are thicker and at the same time, cozier. As mentioned above, you can layer your tights when it gets a bit too cold.
Furthermore, you should also wear socks for extra warmth. You can wear them over or under your tights depending on your outfit idea. You can wear an elegant knee-high such as our Casual 20- Elegant Knee-Highs and Diagonal 70 Fashion Knee-Highs, or these basic Cotton Liners Sport Socks.
Then, wear your favorite pair of boots and you're good to go!
4. Warm your head
Of course, you shouldn't forget to cover your head. Aside from keeping you warm, the right headwear can take your winter fashion game up a notch!
5. Cover your neck and hands
Scarves and gloves shouldn't go missing from your winter ensemble if you want to stay warm throughout the day. You can also find fashionable scarves and gloves, so treat them as fashion accessories!
This coming winter, you need not look cold and blue. If you need warm yet fab hosiery to complete your winter outfits, Hosierre.com has some of the finest collections. Check them out now!