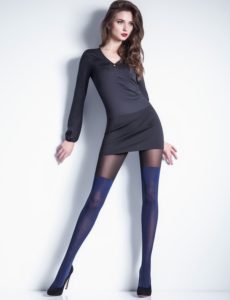 Attending a wedding but don't feel like buying a new cocktail dress? You're not alone in this issue! We understand the importance of always looking your best but also balancing your expenses when it comes to having a perfect wedding attire.
Instead of buying a new dress to wear, why not focus on wearing an old dress differently? One way to spice up your formal wear is to add hosiery to the overall look. Check out these three tips which can help tide you and your old trusty black cocktail dress over for your next formal event.
Cocktails and Prints
A staple approach to wearing hosiery with cocktail dresses is to have either black tights or textured tights. This gives that little black dress an extra oomph for style.
For the more practical ones, pairing black tights with a dress also acts as a safety blanket. No need to worry about that updraft, if you have a nice pantyhose.
When wearing a cocktail dress, try to experiment with lacy tights or a textured hosiery. With the right design, you can teeter the border between edgy and sexy—and this is a nice combo you may want to aim for.
Fashion Fit For a Princess
Ever looked at Princess Kate Middleton and think that she looks unbelievably classy in whatever she wears? A great fashion sense may be a big part of it, but one reason that contributes to it is her preference for nude pantyhose.
While it takes some guts and style to pull off royalty fashion, it is possible, as long as you understand when to use it and how to pair it well with your outfit. Nude pantyhose is a nice touch that could keep your legs warm without interfering with your fashion sensibilities. Just remember to try and keep it as close to your skin tone, especially for a more formal ensemble.
Tights and Pantyhose with Open-Toed Shoes?
In fashion, hosiery is meant to give outfits a fun twist, especially the lacy and textured styles. However, you may have to deal with the age-old fashion debate: do I wear tights or pantyhose with open-toed shoes or not?
The verdict lies more with your fashion taste and the occasion. There are some cases when this combination would be off, particularly when using nude color options. Unless you are using pantyhose for practical purposes, including protection from cold temperature or a good cover for varicose veins, it may be a good idea to skip the nude hosiery if you're rocking an open-toed kicker.
However, colored pantyhose is a different matter. If your style is edgy—think of an all-red ensemble paired with a black pantyhose—then this can definitely work.
Check out some of the unique styles that Hosieree carries. Make sure to find your size—we'll help you using our trusty size charts!—and revamp your style for an edgy, classy look with hosiery.