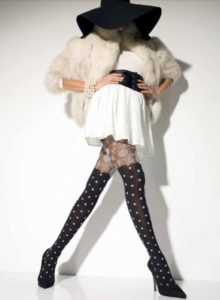 As the crisp chill of fall begins to creep into the air, we at Hosieree.com know it's time to get excited! While hosiery is a formal and professional staple all year round, it's really the fall and winter seasons that let your fashion creativity shine. Your hosiery becomes one of your most go-to wardrobe staples, allowing you to transform your looks and get entirely new results using the same pieces you've worn over and over again. A few reasons why we love this time of year are:
Keep going with your favorite shorts – Shorts don't have to be put away after Labor Day, and as a matter of fact, they can be your new favorite pieces especially during these warmer early fall days. A tailored pair of shorts can be paired with a black opaque tight and a stunning pair of stilettos complementing that sharp blazer during a night out. A denim pair of retro or distressed shorts can be layered on top of fishnets for an edgy streetwear ready look.
Get bootie ready – Few footwear options are more fall-friendly than booties, and few legwear options look better with booties than tights. If you're looking to strut your stuff in a knee-length skirt and cozy sweater, choose a pair of opaque tights in a fun fall-friendly color and put on your favorite pair of booties. What you have is a casual, comfy, and cute look for autumn that can take you pretty much everywhere.
Go from day to night – If you're going to be out for the day, a great pair of hosiery may be all you need to successfully take your look from day to night. The same skirt and top you wore to work can travel to happy hour with your team by pairing the outfit with a pair of fishnet hosiery or tights in a fun color or pattern. Looking to keep it sleek and simple? Add in black hosiery and you're always ready to go. If you're traveling this fall, this simple trick gives you a way to create more looks without taking up too much room in your suitcase!
At Hosieree.com, we love the options you have with hosiery during the fall. If you're looking for those perfect hose to really embrace this autumn season, we have just what you need when you check us out at Hosieree.com!