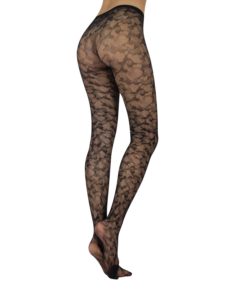 Like bras and jeans, hosiery is another wardrobe staple that too many women wear in the wrong size. For those who may wonder just why their hosiery never seems to last, the most likely root cause is that you're wearing the wrong size for your body shape. There is no body that cannot wear hosiery, and all it takes is figuring out what size is best for you. Wearing correctly sized hosiery ensures a longer life, better comfort, and a sexier look no matter what type of hosiery you may be wearing.
Like other types of clothing, sizes may vary when you go from brand to brand. Different manufacturers of hosiery will use different materials and methods, so you should always check the specific size chart for the pair you're interested in before choosing your size. Even the highest quality European hosiery, like that we sell at Hosieree.com, will have some variations when you go from brand to brand or material to material. While you may be a size small/medium in one hosiery type, you could be a size medium/large in another, or a size x-small/small in another still.
If your hosiery fits you well, it should be comfortable, and it should not limit your movement. If you find that you're afraid your hosiery may rip while you're getting into or out of the car, chances are you're wearing the wrong size. Hosiery like this that is too small is more susceptible to holes, runs, and tears as you place excess stress on the delicate fabrics. If you find that you're constantly pulling up your hosiery, or you get regular bunches at the ankles, these are signs that your hosiery may be ill-fitting on the other end of the spectrum, and you require a smaller size than the size you're wearing.
At Hosieree.com, from our tights, to our fishnets, we have complete size charts for every type of hosiery we sell. We want you to get the most out of your hose, and we know that this can only be accomplished when you know which size you should be wearing. To find your best fitting hose yet, check us out at Hosieree.com today!