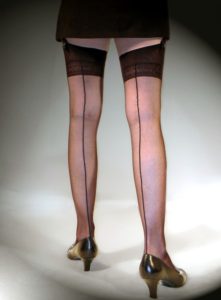 If there's one question, or two, that is constant in the world of women's legwear fashion, it's this: What's the difference between stockings and tights? And which ones should you choose? At Hosieree.com, we believe it's a matter of personal preference as they both have many positive qualities. If you aren't sure what your personal preference is, consider the differences to determine which is right for you.
Stockings
Stockings start at the foot and cover the leg up to the mid-thigh, or sometimes just above the knee. They are work with a suspender belt to keep them from falling down. (Note – Do not confuse thigh highs with stockings. Thigh highs have a silicone strip along the top of each leg to hold them in place.) Most stockings are sheer, but there are some opaque varieties available. Some of the benefits of wearing stockings include:
They make you feel empowered. (There's something about being the only one who knows that you're wearing a sexy back-seam stocking under your suit.)
They fit all body shapes and sizes.
With better air flow to your bottom, stockings can keep your cooler and more comfortable.
They come in so many fun and flirty styles, you can wear them for any occasion.
One disadvantage of stockings is that they cannot be worn with too-high skirts or shorts.
Tights
Tights cover your legs from the toe to the waist. They're traditionally thicker than stockings, but they now come in a wide variety of deniers and opacities. Some of the benefits of tights include:
They can be a lifesaver if you live in a cold climate.
You don't need suspenders to wear them.
They can be worn under shorts and very short hemlines.
You can find them in beautiful patterns and designs.
One disadvantage of tights is that they can be too restricting and warm due to the full coverage.
Whether you prefer stockings or tights, we have a beautiful variety of colors and styles. They're all made from the highest quality European fabrics available, which make them feel as good as they look. Browse through our selection for the hottest styles and trends to make your legs happy. You might just end up choosing both.