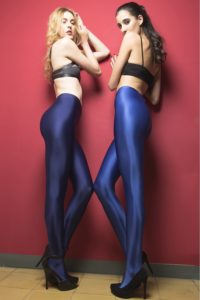 Looking for the latest trends to dress your legs for spring and summer? Then you have come to the right place. With new seasons come new opportunities to show off that beautiful hosiery you have been adding to your wardrobe. We are here today to fill you in on the latest spring and summer leg trends for 2019, so you can start pulling out those new clothes for this season and accessorize appropriately.
Floral Prints
Floral prints are here to stay. Spring is always a great time of the year to rock floral prints and patterns, and this year is no exception. You can go for a more subtle floral look with lace hosiery. This kind of hosiery also pairs well with a variety of different textures. The most popular lace color in floral for this year is white.
Crochet tights are also just as popular; however, they are much thicker than lace so you may want to avoid this material on those much warmer days.
Colored Tight Trends for 2019
Color coordinated looks are also trending this season and matching each piece is becoming the fashionable thing to do. Some of the more popular color choices this year include all shades of nudes including pale pinks and peaches, white, colorful shades like yellow, emerald green, ruby red, fuchsia, and orange, and the bold colors in the neon spectrum.
Knee Highs are Making a Comeback
We are also seeing a reoccurrence of knee highs this season as well. They were spotted on the Marc Jacobs catwalk recently and are now being paired with cycling shorts, pleated skirts, and short dresses.
Other styles that may be creeping in for the spring and summer season include the wet look hold ups, denim, and latex that have been inspired by the looks from the 80s. As usual, we also see fishnets, graphic prints, and fun patterns like diamonds and stripes.
Dare to Be Creative
Now is as good a time as any to get bold and be creative with your wardrobe. Don't be afraid to show your wild side with the bright neon colors collection or show your tame side with the pale pink tights paired with a cute pair of shorts and sandals. No matter what you choose, the biggest piece of advice we have to offer is to make sure you are comfortable and confident wearing whatever you choose to express yourself. Ready to jump in and make those bold selections? Visit hosieree.com today to see the latest styles and brands we love.