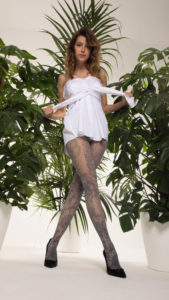 Now that summer is here, you may be wondering if it is time to ditch your tights and leggings and prepare for the warmer weather. While this may seem like something to do, not everyone feels as if it can be done. Going bare legged for some is just not an option.
Maybe they don't have perfect legs or the professionally done pedicure as the next person does, or maybe they have their own more personal reasons for not going bare legged.
We are here today to give you 3 reasons you can and should avoid going bare legged this summer.
Makeup for Your Legs
If you want to cover any imperfections on your legs, then it is certainly okay to look at sheer tights as a kind of makeup for your legs. Sheer tights are thin, they can keep you cool, and can give you a slight tan. They can successfully hide any hair, spots, or scars. Another big plus? If you didn't have time to shave your legs that morning, no problem.
Haven't had time to tan your legs since the end of winter? Also, not a problem. Ultra-sheer hosiery will soon become a staple in your summer wardrobe. They can even be worn with open toe sandals.
Prevent Leg Chafing
Chafing is something many of us have to worry about during those warmer summer months; however, wearing hosiery is one of the best things you can do to avoid this painful occurrence. If you don't like the feeling of sticking to your car seats or chairs during the hot and sticky summer months either, then hosiery can help prevent this as well.
Tights are Still on Trend
Another big reason to not cover your legs this summer is because tights are still on trend! Sheer tights are becoming increasingly popular as more and more people are getting more creative with designs, patterns, colors, and styles. You don't have to settle for the plain and ordinary hosiery anymore.
Instead, you should be reaching for the bright and colorful hosiery, the polka dots, and even diamond patterns. Then, of course, you have the classic lace and fishnets as well.
So, before you feel that you have to go bare legged all summer, check out hosieree.com today for the latest in brands and styles and rock that summer tights look.