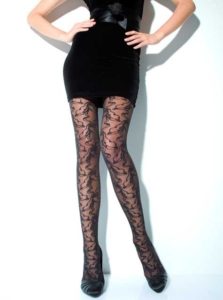 Leg warmers served up some real looks during the 80's, and for this reason a lot of women feel a little self-conscious about breaking them out today. Despite being seen on celebrities like Anna Paquin and Anne Hathaway in recent seasons, and on the runways at New York Fashion Week from the likes of top designers like Betsey Johnson and Chanel, leg warmers remain something of a mystery when it comes to bringing them into the 21st century. At Hosieree.com, we love the layered looks that leg warmers can provide, and we want to show you just how versatile and trendy these hosiery pieces can be.
One of the most common ways you're like to see leg warmers in everyday fashion is paired with boots, and you may not even realize you're seeing leg warmers when you see this look. A pair of leg warmers like our Cazzola Gaetano 25698 Fall Fashion Leg Warmer peeking out the top of a boot creates a perfect layered look that really brings out the coziness of a pair of boots. Typically, this look takes on the look of socks, but the chunky sock is truly a leg warmer bringing texture to the table.
Leg warmers also really make a statement when paired with other types of hosiery, like a pair of patterned tights. Layering texture and pattern has been a massive trend for a few years now, and leg warmers give you an incredibly simple way to do it. A pair of leg warmers over our Amy Fashion Micro Tulle Pantyhose and paired with a pair of chunky heeled boots combines the 90's trend, the pattern mixing trend, and the texture trend all at once.
Lastly, leg warmers are also a natural pairing with flats. For spring, pairing leg warmers with flats and a shorter skirt can bring you right into the season while keeping you comfortable on those cooler spring days. Your chosen flat can be a standard flat, or a flat sneaker, and leg warmers with lace or embellishments will really further your seasonal look.
If you're looking for leg warmers, or the perfect hosiery pieces to pair your leg warmers with, see what we have in store at Hosieree.com today.