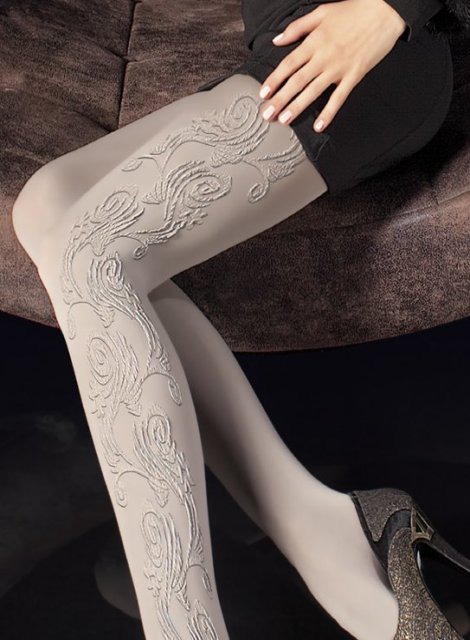 Winter tights have use in both functional and fashionable areas; not only do they add another style layer to your winter wardrobe, but they also keep you warm at the same time. Your tights should be a staple part of your winter wardrobe, and a few flawless ways to incorporate them into your cold weather looks are:
Mixing your textures – Patterned or 3D tights have great texture, and great potential for mixing and matching different textures to add something interesting to your look. For instance, the Alzira 3D Pattern Tights with a leather skirt, sweater dress, or tailored satin shorts plays with the texture element flawlessly. On top of looking great, they also help to keep your legs comfortably warm. 
Elongate with high boots – High heeled boots and winter tights are a match made in heaven. Few fashion tricks can elongate the leg quite like an opaque tight topped off by a high heeled boot, and we at Hosieree.com have opaque tights in every color you desire. With an ankle bootie or a stiletto thigh-high, see for yourself just how this trick polishes off any look. 
Bring color into your looks – It's easy to get a bit drab with a wintery monochromatic look, but tights give you that perfect opportunity to accessorize. For instance, a little black dress can be paired with plum tights and accessorized with matching plum accessories, taking a versatile neutral outfit and transforming it each and every time it's worn. 
Chic layers – Layering your tights is another great way to create flawless winter looks. Sweater dresses with microfiber tights, fishnets topped with knit knee highs, and long cardigans paired with tailored shorts and 3D patterns are just a few ways you can play with layering using your winter tights wardrobe. 
There are a ton of ways you can flawlessly have fashionable fun with your winter tights. With each new winter season comes new styles and new inspiration, and we at Hosieree.com are here with just the pieces you need to make each inspired look a reality. To see what winter tights your wardrobe may be missing, check us out at Hosieree.com today.