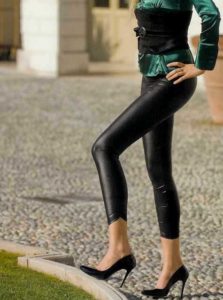 2018 as a whole may be getting ready to wind down, but it's the perfect time of year for legging fashions to start heating up! The top legging fashions for 2018 really highlight the versatility of such a comfortable wardrobe staple, and 5 of our favorites here at Hosieree.com are:
1. Pair with a flowy blouse – Leggings are often considered "athleisure" or staple casual-wear, but that doesn't mean they're permanently stuck in that box. Pairing your leggings with a flowy blouse you may otherwise pair with a skinny jean gives your leggings a whole new layer of value. Not only is the look incredibly comfortable, but it's also perfectly brunch-ready.
2. Balance it out with an oversized sweatshirt – While this trend isn't specific to 2018, and it's pretty timeless, it's always worth mentioning. Leggings like our Addiction Leggings AD30-07 look cozy and chic when taking the kids to school, the dog for a walk, or running a few errands when paired with your favorite oversized sweatshirt.
3. Pairing with booties – The quintessential footwear pairing with a pair of leggings is usually cozy boots or sneakers, but you shouldn't limit yourself to just these. One trend we're really loving is pairing a sleek black legging like our Eco-Friendly Leather Pants With a Crinkled Leg Design – 996 with a pair of sleek black booties, or the Botanical Microsuede Leggings U16964 with a boho-chic fringe bootie. This sort of style elevation lets you take your leggings straight to date night without a care in the world!
4. Pair with a blazer – Typically a blazer and leggings aren't two things you'd think to put together, but why not? A refined pair of leggings with a carefree blouse and structured blazer is the perfect way to add a bit of edge to this autumnal wardrobe staple.
5. With a crop top and oversized jacket – Leggings and crop tops are popular for summer, but it can be tough to bring this look into fall without adding another element – and that's where the oversized jacket comes in. With a white cropped top and denim jacket you're embracing the perfect edgy casual chic that is perfect for that lunch date.
Leggings are a fall staple, and it's not just for their comfort. By using a little creativity, you'll see just how you can embrace so many different looks with your favorite comfy fall wardrobe piece. To find your next favorite pair of leggings to try these trends with, see what we have in store at Hosieree.com today!