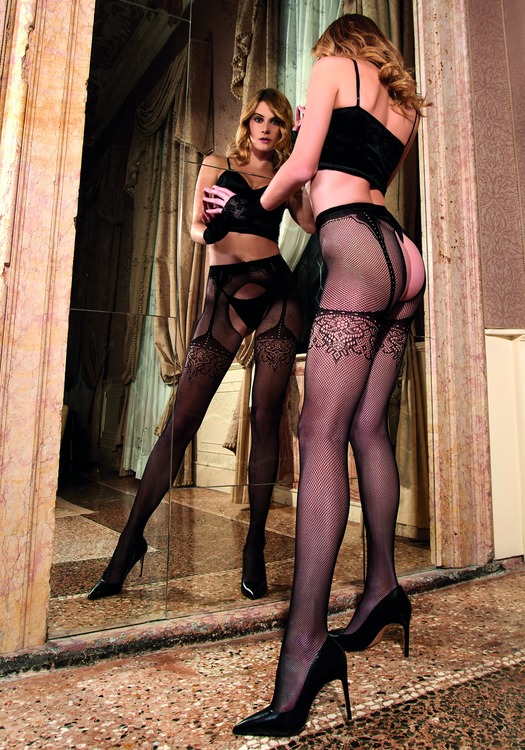 Before you learn the top reasons why stockings should become the newest staple in your wardrobe, be sure that you understand the difference between stockings and thigh-highs. 
Stockings must be worn with a suspender (garter) belt to ensure that they stay up throughout the day.

 

Thigh highs do not require the use of a suspender belt, as they have elastic or silicone bands at the top to hold them in place.

 
This article will focus on the sexy stocking, and why it makes sense for you to pick up a pair (or three) the next time you place an order with hosieree.com. 
A Bit Of History
The suspenders (also known as garters) that hold up stockings have been around since the 14th century when they were used by both women and men to hold up their socks. In later years, suspenders became more feminine and were attached to a woman's corset. In the 1920's, the garter belt was invented, giving women the ability to get rid of their corsets and use something less restrictive. Garter belts and stockings enjoyed a long run until the 1960's when hemlines shifted, sexual liberation ruled, and pantyhose were invented.
Bringing Sexy Back
In the 1980's, vintage clothing came back in fashion, and stockings with garter belts became vogue once again. Today, it's all about what makes you feel good about yourself, and stockings have a special way to do just that, giving you an extra shot of confidence. But just in case you need a few more reasons to bring stockings into your wardrobe, here are six. 
1) Variety. There are so many styles, patterns, and colors of stockings, you can pick a pair for any occasion. 
2) Cooling effect. A breathable form of hosiery keeps things cool and fresh right where you need it the most.
3) No slippage. A garter belt will hold up your stockings securely, all day and night. Say goodbye to saggy ankles.
4) Tummy trimming. A garter belt that has a bit of depth can tuck your tummy in just the right place.
5) Sensuality. Let's face it, stockings are synonymous with sexuality and have been alluring to the opposite sex for centuries. 
6) Feminine. Stockings are traditionally feminine, and they can give you that boost of prettiness whenever you wear them. 
Now, isn't it time you place your order?