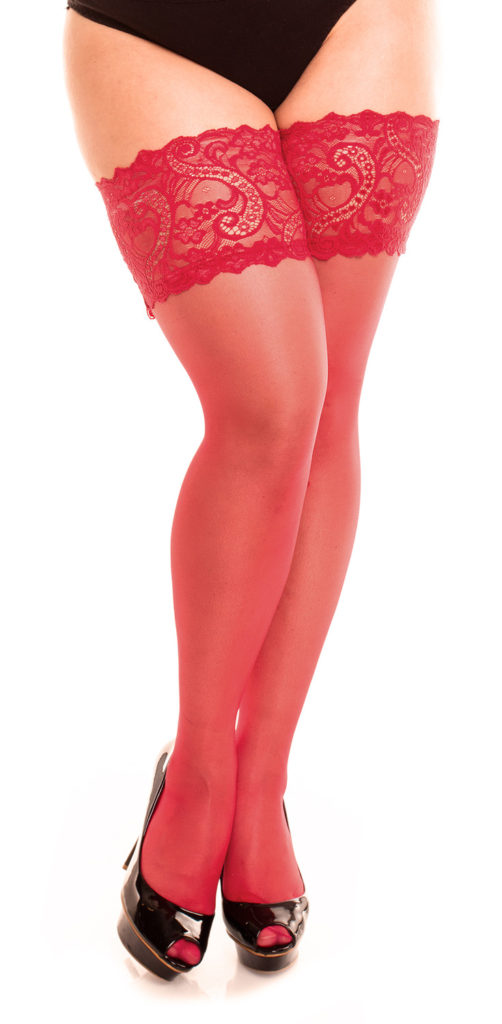 Not everyone is a size two. In fact, many women are well over a size two. Plenty of women have curvy bodies, with no thigh gap to be found. It isn't difficult for the size-two women to find styles and shapes of leggings, thigh highs, and pantyhose that fit great and look even better. For those who fill out their legwear in glorious beauty with zero thigh gap, however, it can be a bit trickier. 
Knowing what legwear to look for to complement your curvy body isn't always easy, but with a guide to go by, you might just find a few pieces that make you feel just as good as they make you look.
Leggings:
When it comes to leggings for the curvy girl, keep in mind that solid colors will suit you better than patterns. That's not to say you can't be flashy and bold with solid colors like navy and maroon but skip the moons and stars.
Look for

leggings with a wide waistband

made from a soft and stretchy material that won't dig into your skin; you'll be far more comfortable while looking fab. 
Thigh Highs:
Thick thighs can look sexy in thigh highs, and they feel even better when they have a wide top.

Glamory thigh highs

have the perfect hold-up top, and they're soft, smooth, and stunning.
Opaque thigh highs can smooth the legs and accent the curves. A wideband coupled with a touch of Lycra goes a long way toward providing sexiness and all-day support.    
Pantyhose:
Skip the nude and suntan coloring and go with an opaque hose that gives you a streamlined look. You can also opt for a subtle pattern like a back seam or vertical stripes. 
Look for pantyhose that have a touch of Lycra to provide a sheer look and give added support throughout the day. A touch of compression in super soft

Soleil 40

keeps you invigorated. 
Choosing the right details in legwear is just as important as choosing the right place to purchase them. At hosieree.com, you'll get only the best because that's all we offer. It's no secret that European brands are more luxurious than those you find in discount store on your lunch break. Better quality means better comfort, and when it comes to curves, comfort is king. Try us and see.