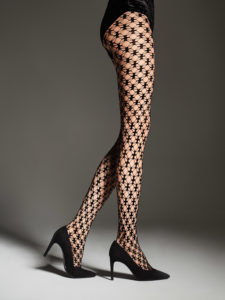 Sneakers have made a huge fashion come back. From the chunky sneakers filling the runways of Balenciaga to trend-setting Yeezys to the sleeker options from Marc Jacobs and Gucci, sneakers are everywhere right now. One of the key looks fashionistas are sporting is pairing these fashion-forward sneakers with tights. Functional, elegant, and comfortable, this look is a great go-to no matter if you are heading to work or just running errands. Mastering this look can be a little challenging without looking like Working Girl. Here are some tips to pull off this casual look.
Experiment With The Trendiest Pairing
The key look that we're seeing everywhere is pairing a 40 denier black tight like the Dorella 40 Semi-Sheer Glossy Tights with a classic white sneaker. This minimalist pairing works with anything from a midi skirt and t-shirt to a patterned babydoll dress. Try taking an outfit you normally wear with another casual show like a ballet flat and trade out a sneaker. That way you won't look like you've got your heels tucked away in your bag.
Keep It Youthful
If you still feel a little old-fashioned pairing your tights with sneakers, push the fashion boundaries a bit with a statement piece. A pair of funky fishnets like the Lana Fishnet Fashion will help bring a youthful and fun edge to your look. This look is also a great way to wear your sexiest pair of fishnets without feeling too over-the-top.
When In Doubt, Stick To A Monochromatic Look
If you are feeling these looks are still a little bold for you, you can tone it down with a monochromatic look. Monochromatic looks make your legs appear miles long, but also can help your footwear choice blend it. Take an opaque black pair of tights like the Charme 50 Seamless Tights and match them with a simple pair of black slip-ons. You can also experiment with texture by pairing a patterned like the Rox Geometric Pattern Tights and matching one of the colors.
Experiment a bit with these looks and you'll find a great pairing that works with your style. Hosieree.com has a variety of tights that you can pair with your favorite sneakers to get this fashionable look.