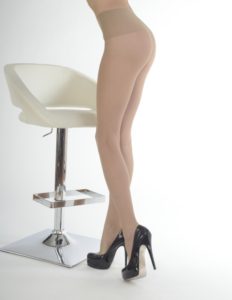 Everyone knows that sheer pantyhose can give you a smooth, sleek leg line that highlights your muscle tone. However, if you opt to wear a sheer pantyhose, you don't want it to be obvious. At Hosieree we have a wide variety of sheer pantyhose that can help highlight the best features of your legs while still covering any issues. Here are our picks for the five of the most natural looking pantyhose in our catalog:
1. Hosieree Flex 10 Adjustable Waist High Tights
These lightweight, ultra sheer pantyhose offer an elastic waistband so you never have to worry about them slipping down and bagging on your ankles or around your knees. They are woven with 3D wire so they are extremely durable and resistant to holes and runs that can give away your natural look. They also feature a sandal toe so they can even be worn with open toe shoes. No one will be able to notice you aren't bare-legged.
2. Invisible Ultra Sheer Tights
These pantyhose are called "Invisible" for a reason. They come in a variety of flesh tones that blend beautifully with your natural skin color. The Invisible Ultra Sheer Tights have a matte finish with a slight sheen to look like your natural legs. They are also extremely comfortable and very breathable. They can be worn all day, even in the summer months.

3. Platino Frappe Non-Slip Sole Pantyhose With Cooling Effect
Offered in a variety of skin tones, these sheer pantyhose are perfect for anyone who's ever struggled with their feet slipping in their shoes. They have a non-slip sole that holds shoes on comfortably all day. They are also made with 9 denier Hidrofil yarn which is extremely breathable and wicks away moisture. They will not only make your legs look natural but they also keep you secure and comfortable all day.
If you've ever struggled to find a pair of pantyhose that matches your skin tone, Alba Chiara is a great option. Available in a wide variety of flesh colors, you'll be able to find a perfect match. Made with 40 Denier, they will also blend naturally into your skin and get you the natural look you desire.
5. Clara 20 Tights With G-String Effect
These pantyhose will you go a natural seamless look all the way to your waistline. With a G-string effect and wide waistband, no one will know you are wearing pantyhose. The design also enhances your curves, highlighting your best features. They can even be worn as comfortable shape-wear under trousers.
These are just some of the great offerings we have a Hosieree.com that can help you get the bare-legged look you are after.