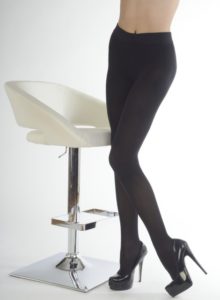 If you find that you are easily inspired by pops of vivid and bold colors and love to show off your personality through your wardrobe, then colored tights are the perfect fashion statement for your style.
Some might find colored tights to be a little intimidating, however, especially if they aren't sure how they should be worn or what they should be paired with. Once you start wearing them though and get a better feel for their versatility and fashion strength, you will never regret your decision to step into the bold world of colored tights.
The following are just a few ways you can rock colored tights to stand out and express your personality and style:
Pair Colored Tights with Black
Wearing colored tights with black wardrobe pieces allows you to set off the outfit and easily incorporate a bit of color without overdoing it. For example, pairing colorful and patterned tights with a black sweater is a comfortable and stylish look for any casual setting.
Striped Dress with Colored Tights
Do you have a black and white striped dress you absolutely love but find it is still a bit too cold out to wear it? Pairing this favorite dress with a pair of red colored tights is a great way to complete the look and make a statement with a bold color against the simplistic pattern of black and white stripes.
Pair Colored Tights with Neutrals
We all have very neutral and basic pieces in our wardrobe, and sometimes we need to brighten them up to make them work so we can wear them interchangeably for each season. Colored tights will add a splash of color to any neutral ensemble and can turn an otherwise plain outfit into a fun and eye-catching outfit.
Choosing Colored Tights
Choosing the right color of tights can go a long way in accentuating other features as well. If you want to make your legs appear longer and slimmer, for example, you should choose tights that are darker in color such as burgundy, navy, and darker green shades.
Opaque tights are also a great option and can provide even more of a slimming effect when worn.
Finally, you can always match solid colored tights to the print found in your outfit. If you have a colorful printed outfit, choose one of the colors to represent with your tights. You can find several options available at hosieree.com.
Colored tights can be the statement piece you have been looking for, and they are a versatile component to any wardrobe.