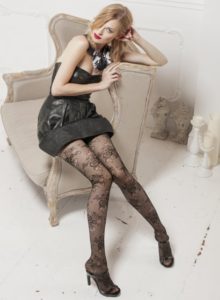 Even the most high quality hosiery doesn't always last forever, but the beauty of hosiery is that it can be used for a whole lot more than just great fashion. When hosiery wears out or is ruined in some way, you don't need to toss it in the trash. 6 ways to reuse worn-out hosiery are:
1. Storing gift wrap – Few things are more inconvenient than going to wrap a gift and finding your wrapping paper roll has become folded, crunched, or squished. Using worn-out hosiery with holes or runs, you can separate the legs and store 1 or 2 rolls of wrapping paper in each leg of the hose. While the hosiery may not be fit to bring your look together any longer, it's perfectly suited to keep your wrapping paper stash still looking its best across seasons!
2. Bungee cords – For keeping cargo tied down in the back of a car, or keeping a trash bag from slipping from a trash can, old worn-out hosiery really comes in handy. The strong and stretchy nature of hosiery allows it to be used as a makeshift bungee cord when it can be no longer worn on the legs.
3. Vegetable storage – Storing vegetables in the pantry is incredibly simple with worn-out hosiery. Potatoes, garlic, and onions in particular can be stored in old hosiery and hung from a hook in the pantry to keep them properly stored and ventilated until they're ready to be used.
4. Emergency fashion fix – Even after they've become worn-out, your old hosiery can still be a big fashion help. Hosiery is perfect for keeping stored in a purse in a small plastic sandwich bag, and brought out to remove lint and pet hair from your outfit or those pesky deodorant stains that pop up on shirts.
5. Cut down on mold growth – If you experience mold growth in closets or cupboards, you can take a small hole-free length of worn-out hosiery and fill the space with a small bit of kitty litter. The litter will absorb the moisture from the air and help to stop mold and mildew from growing within the space.
6. Avoiding insects – Pantyhose can be a big help in keeping insects at bay, and your old pantyhose can become your gardening pantyhose to keep ticks, chiggers, and even blisters from becoming a bother.
When your old pantyhose wear out, you'll need to replace them with new ones for fashion as you keep the old ones for function. To see what pantyhose we have in store for your next favorite pair, visit us at Hosieree.com today!