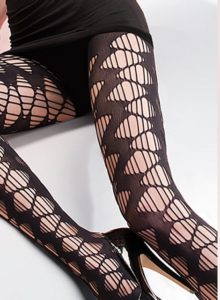 From stockings to tights to knee-high socks, the right hosiery can make a huge difference in how you look and how you feel. It's incredibly important to give yourself the right accessories for any moment, and at Hosieree we believe in helping make that a reality – and easy to do. 
The exact hosiery you need will vary depending on the occasion, the season, and even the overall look that you're going for, and with a huge selection to choose from the only limit is your imagination and your boldness. However, taking a quick look at a few great options can help you see just how many possibilities there are. With that in mind, here's a look at some of the best stockings, pantyhose, and tights options this year.
• If you're stepping out for a party or big event, the 305 MissO Thigh Highs with a Lace Top are worth looking at. They're made with a high Elastane content so they'll stretch and remain durable, and the sexy white color means that you'll stand out from the crowd. They really are a perfect combination of classic and modern. 
• For those who want to up the sex appeal, simple designs can actually end up adding a lot to your look. For example, Sheer 30 Denier tights feature a thin vertical stripe from top to bottom that will draw attention to your legs and help you look even sexier than you already do. They're great for anything – a date, a night out with the girls, or even looking amazing at the office. 
• If you want to go bold, think about options like Gabriella Inez Tights. Beyond basic fishnets, they feature a macro mesh zigzagging pattern form the toes to the waste. Their unique look guarantees that you turn heads and capture anyone's attention. 
• Finally, don't forget about leggings. Ankle Length 3D Winter Leggings are great for wearing with a skirt or dress but have the thickness needed to wear them all on their own. They'll keep you warm and offer tremendous comfort, and are great when you want to tone down the sex appeal but still look fabulous. 
Each of the examples above can fit into virtually any style, but the fact is that they're only the tip of the iceberg. If you're looking for a way to enhance your look this year, take a look at all the hosiery available at http://www.hosieree.com/, and feel free to contact us with questions.