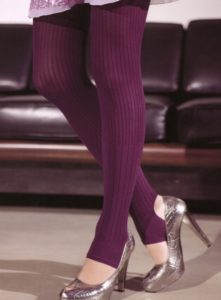 We have all been there, you excitedly open your package from an online apparel retailer and the size you thought you got correct was not. The issue with so many  online apparel companies is that each manufacturer can run differently. So the pair of leggings or pantyhose you got from one brand may not be the size you wear in a different brand. Luckily for you we know this frustration and can give you the insight you need to make the right choice, the first time.
Common Concerns For Legging Sizing
Many people come to us and say they thought they were a certain size based on what they normally here for pants. Although this is a good place to start, it can be tricky to compare leggings to pants. As we mentioned before each brand is different and even a type of legging within the brand can vary in size from another type. To make this easier on you we have provided a size chart unique to each item. Therefore if you are looking at the Diana Opaque Leggings that have vertical striped patterns you can see that you may wear a different size in the Bellissima Microfiber K2.
Our sizing charts are not based on one measurement or your pants size. Which is helpful because there are a lot of people we talk to that have trouble finding leggings because of their height. To help with this each size chart has variables of weight and height that help place you in the right size with each specific item. We pride ourselves on having a wide selection of styles and brands but that can come at some confusion on sizing.
If you just can't seem to figure out what size works for you or you just want to make sure to avoid the hassle of exchanging sizes, you can just ask us. If you were in a physical location you could ask an associate to help you determine which size or locate something for you. We think online tights stores should be able to help you in the same way. In our FAQ location there is a portion on sizing with a link at the bottom where you can contact us with any remaining size questions and we can help you figure out the literal best fit for you!