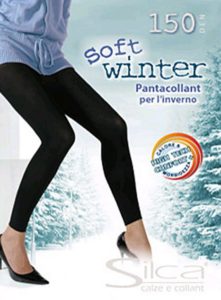 With the hot summer weather finally coming to an end, we can finally look forward to a chilly autumn. The fall season comes with many wonderful things including warm mugs of hot cocoa, large cozy sweaters, and colorful leaves a plenty.
However, with that chilly weather upon us, you may fear that you will need to retire your hosiery for a warmer season.
False!
Thanks to the wonders of wool, you can keep showing off your sleek legs without having to give up warmth or comfort. Here are just a few of our cozy wool hosiery options for you to choose from:
3D Winter Leggings – These ankle length leggings are thick enough for you to wear alone, but you can also pair them with a nice dress or mini skirt just as easily. While being soft to the touch, these leggings are highly stretchable and will definitely be keeping you cozy and warm during the fall and winter seasons.
Jennifer Merino Wool Tights – These tights are a perfect way for you to stay cozy though out the chilly fall or cold winter season. While being soft to the tough, these tights are stretchable and durable enough to withstand those long days on your feet. Additionally, the Jennifer Merino Wool Tights come in a large variety of color so you can really personalize your wardrobe.
Artica 120 Tights in Wool and Cotton – These tights combine the warmth of wool with the breathable quality of cotton for a perfect pair of autumn and winter tights to add to every wardrobe. The Artica 120 certainly doesn't sacrifice comfort either. You'll find these tights warm to the tough thanks to the brushed wool inside and will ensure that you won't be left out in the cold this season.
Is your wardrobe ready for the autumn and winter season?
No matter what season you are shopping for, we at Hosieree.com have the high quality hosiery that will hold up in the winter chill or keep you cool in the summer heat. With our large variety of colors, styles, and types, you can easily begin picking out the right hosiery for your needs and desires with just a click of a button.
Give us a browse today to find the perfect hosiery for every season at Hosieree.com!