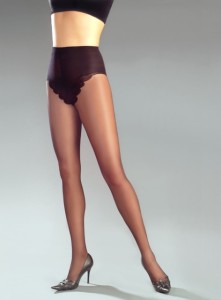 As the seasons change, you'll want to naturally consider the hosiery you're wearing. A super sheer pair of hose isn't going to work in the fall or winter like it will in the summer, and you'll find yourself quite uncomfortable grabbing for the opaque pair during the middle of August. For this reason, we at Hosieree.com want to prepare you for the changing of the seasons with a few tips on storing and switching your seasonal hose to make the best of your hosiery collection.
There are some types of hosiery that work well during transition seasons, like spring and fall, and you can keep some of your favorite summer pieces out for the fall and still work them into your looks during the beginning of the new seasonal change. For instance, a semi-sheer like our Affection Semi-Sheer Tights with a control top can work well for summer with their sheer nature, but they're just opaque enough to work for early fall looks as well.
When the time comes to switch out your distinctly summer or winter hose, it's best to take care in how you store them to ensure you'll be able to wear them again next season. What we recommend at Hosieree.com is keeping hold of the original packaging your hosiery comes home in, and using this packaging as a storing method for when the seasons start to change. What this does is help to keep your hosiery protected and runner free, while keeping the dust off as they sit in your closet or drawer awaiting the time to be worn again. For summer sheer hosiery, which is often more delicate, this method is particularly recommended as snagging during storage can spell disaster for your summertime hose.
At Hosieree.com, we provide hosiery that is made to last, and our European made hose can take you from season to season with ease when you incorporate the right storage methods. Now that the summer is getting ready to begin changing to fall, it will be time to stock up your fall supply and tuck your warm weather hose away for another cool weather season. To see our fall hosiery, or for more tips on storing your hose, simply check us out at Hosieree.com today!