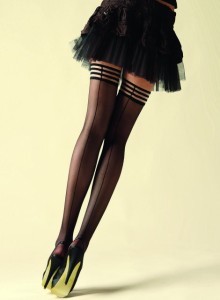 Thigh highs are the perfect hosiery option to accentuate a bit of lingerie or really make a look sexy. What many women don't know, however, is how well they can mesh right in to daytime outfits as well. We at Hosieree.com have plenty of gorgeous thigh high options, like our Back Seam Thigh Highs 20, made in Italy with a 20 den, and we want you to be able to make the most of your thigh highs in a fashionably creative way! 5 ways to wear thigh highs for daytime are:
1. Mini festival dress – For summer or early fall, a flowy mini festival type dress that allows a little movement and has a super short hemline goes great with a pair of thigh high hosiery. To make it a day-time appropriate look, go for a pair of opaque thigh highs and mix it up with some chunky boho-chic accessories and some oversized sunglasses.
2. Over tights – One really creative look that we love is layering a pair of thigh highs over some brightly colored tights, and this allows you to mix your color palette as well. For this look, you can also mix and match with some different patterns and materials, as having the fabric underneath show through does nothing but enhance the whimsical nature of the outfit.
3. With a romper or playsuit – Rompers, one piece shorts ensembles, are huge for this summer, and you can bring them into fall daytime by adding a pair of thigh high hosiery to go with them. If you do plan to take this look into the fall season, opting for an opaque pair of thigh highs, rather than sheer, makes it work best.
4. With a high waisted skirt – High waisted swing or skater skirts will often have a super short hemline, and this makes them perfect for showing off your thigh high hosiery. For this look, you're really given the opportunity to make any type of thigh high work, so there is no reason not to play around with your own creativity.
5. With short florals – Florals and thigh highs both ooze femininity, and mixing in a pair of thigh highs with a pair of floral short shorts or a short skirt can really up the flirt factor.
At Hosieree.com, we want you to know that thigh high hosiery isn't just for nighttime, and your daytime looks can be just as accentuated by this type of hose as your night. To see what thigh highs we have in store to add to your daytime looks, simply check us out at Hosieree.com today!