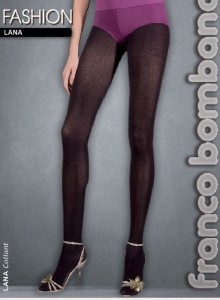 At Hosieree.com, we love wool hosiery, and we know you will too if you give it a try this winter! When it comes to hosiery, keeping warm is one of the many benefits that these pieces provide, and wool hosiery is just about the best type if this warmth is what you're seeking in your hose. Wool hosiery can come in a myriad of different colors, from nude all the way to burgundy, and there is a pair of wool hose perfect for any event you may have on your schedule!
One often heard concern with wool hosiery is heaviness, and many women don't want to commit to wearing something that heavy on their legs for fear they will become uncomfortable. Unlike a woolen coat or scarf, however, wool hosiery is kept very light and highly comfortable, so you won't need to worry about a stiff feel or appearance from your wool hose. Also, the wools used in wool hosiery are optimally breathable to allow the pieces to be just as comfortable as any other type of hosiery on the market, so you'll get all the warmth without feeling like your legs are trapped in a stiff or uncomfortable fabric!
Another concern oft heard with wool hosiery is itchiness, as a thick woolen sweater is often synonymous with an itchy sweater. Because wool hosiery isn't made of the same heavy woven wool as sweaters or jackets, this itchiness isn't something often experienced with wool hose, and these pieces will often feel just like the comfortable warm weather hosiery pieces you love, but with an added coziness factor!
Woolen hosiery can be worn as a fashion statement, a slimming garment, or a warmth piece as you see fit, and woolen hose can be found in as many options and varieties as any other type of hosiery. Because of the vast variety found in woolen hosiery, you'll be able to find warm and comfortable pieces to go with just about any fall or winter outfit you own, allowing you to embrace this type of hosiery all throughout the cool weather season.
At Hosieree.com, we have a wide selection of different wool hosiery pieces for you to choose from, and whether you're just trying out woolen hose, or you're looking to re-stock your supply, we have all of the wool hosiery products you need. If you're looking to embrace this trend, and we'd highly recommend it, check us out today at Hosieree.com to see what we have in store!