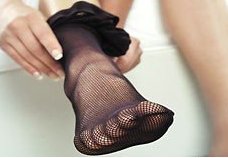 Hosiery can have a profoundly positive impact on a finished look when dressing up, but unfortunately it can seem difficult to properly care for your stockings and nylons, especially when you consider how quickly a pair can become snagged. Don't you find it annoying when a fingernail snags a thread in your favorite set of stockings or tights, ripping a run or a hole that cannot be repaired? Even more annoying is when you find out that your favorite style is no longer commercially available. You can take steps, however, to take better care of your nylons so that you can elongate their lifespan and get better use out of them.
First and foremost, you are going to want to keep sharp or jagged edges away from your tights when putting them on. Make sure that your nails are smooth and free from chips, and take off any rings or other jewelry before you put your nylons on. If you want to practice good hosiery care, then you might consider buying and using hosiery gloves. You gather each of the legs at the ankle, and then smooth over the foot and the leg gently. Do not jerk or pull as you go. Your hands should work up from the front to the back of the leg, pulling each of the legs equally.
Make sure that you stretch the yarns simultaneously when you put them on, as this is going to alleviate wear and tear while ensuring that you get a smooth appearance. You should be just as gentle when you take your
hosiery off as well for good hosiery care. Keep in mind that some areas are more prone than others to accidents. You can keep your hosiery from snagging on rough spots of your skin by applying a moisturizer prior to applying your nylons. This way you will not end up creating a tear around the heel or the toes.
The best way to wash your hosiery, if you are shooting for optimal hosiery care, is to wash by hand. If you do not want to wash them by hand, then the best thing for you to do is to wash in a cool cycle in the machine using a wash bag designed specifically for hosiery. Make sure that you dry without the use of indirect heat, and you should absolutely never iron them in order to keep them in good shape.